WELCOME TO BRISBANE BABY TAXI
Unfortunately due to the ongoing pandemic we are currently not operating in Brisbane. At this time we have no current return date. Please accept our sincerest apologies.
Brisbane Baby Taxi:
Queensland's BEST
Cab, Limo and Bus Service
WHY CHOOSE BRISBANE BABY TAXI?
Brisbane Baby Taxi offers the best limousine and taxi service with child seats, boosters and capsules.
Our Queensland service has a selection of luxury limousines, Maxi Taxis and sedans for the whole family.
We have the latest sedans and luxury vehicles. This means we are not your standard taxi service. Our cars and drivers offer a premium, prestige service.
SAFE CHILD AND BABY SEAT CAR SERVICE IN BRISBANE
Transporting your family safely is 
our top priority. All our car seats are certified to Australian Standard AS 1754. All seats are fully labelled and checked regularly. Additionally, our drivers have all been fully trained in setting up the different types of child car seats and have experience and training in making sure your baby and/or child are placed safely and comfortably in their seat, capsule or booster.
Our service can take a family with any combination of up to 3 car seats (booster, car seat or capsule).
RELIABLE SERVICE FOR YOUR WHOLE FAMILY
Our taxi with baby seat service is always on time. Drivers will arrive well ahead of schedule leaving enough time to safely and securely place your child or baby in their seat. We have many 5* reviews from satisfied customers who have experienced the Sydney Baby Taxi service. We guarantee that our Brisbane Baby Taxis will be just good!
We invite you to try Brisbane Baby Taxi and see what a difference our service makes to your trip or visit with your children. We know your children are precious and deserve the best. We work hard to provide the safest, most reliable and best taxi with baby seats service in Brisbane, Qld.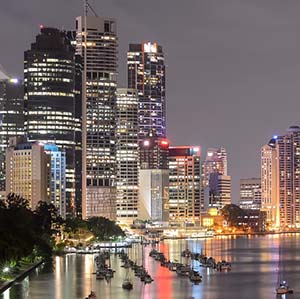 INFORMATION ABOUT BRISBANE
Brisbane airport is the main airport that services Brisbane and Queensland for both International and Domestic flights.
Brisbane Baby Taxi will drop off and pick up families and carers with babies and children on time, every time.
The airport is 12 kms from the city centre and is an easy ride when you choose Brisbane's top taxi with child seat service.  According to Wikipedia, the airport services 31 airlines that fly to 50 domestic and 29 international destinations. In 2016, this amounted to more than 22.7 million passengers travelling through the airport.
The city of Brisbane sits on the Brisbane River with lots of restaurants and entertainment along the riverfront and parklands.
Brisbane Baby Taxi is proud to offer Brisbane's premier taxi, limo and mini bus service.
All our cars and mini vans are equipped with the latest, Australian compliant safety baby capsules, child car seats and boosters. We cater to children and babies of all ages and sizes. Our driving staff are all experienced with driving children and are all mums, dads, aunts and uncles and specialise in transporting babies, children and families. With Brisbane Baby Taxi, you get a professional service when you need an airport transfer or to just go anywhere.