Our Taxi with Baby and Child Car Seat Service
The Best Limo and Taxi with Car Seat Service in Australia
The Baby Taxi Australia service operates throughout the entire country. We have taxis with child seats and baby capsules in every major city in Australia.
Get dropped off at one airport (eg. Sydney) and have a driver waiting at the other end (eg. Cairns). Then, on the return journey, we'll be right there for you again!
We have a wide range of cars from luxury limousines to Maxi Taxi's for the whole family and large groups. These include the latest sedans and luxury vehicles.
We are not just your standard taxi service, our cars and drivers offer a premium, prestige service.
SAFE CHILD AND BABY SEAT CAR SERVICE
Your family's safety is our top priority. All our car seats are certified to Australian Standard AS 1754. All seats are fully labelled and checked regularly. Additionally, our drivers have all been fully trained in setting up the different types of child car seats and have experience and training in making sure your baby and/or child are placed safely and comfortably in their seat, capsule or booster.
Our service can take a family with any combination of up to 3 car seats (booster, car seat or capsule).
RELIABLE SERVICE FOR YOUR WHOLE FAMILY
Our taxi with baby seat service is always on time. Drivers will arrive well ahead of schedule leaving enough time to safely and securely place your child or baby in their seat. We have many 5* reviews from satisfied customers who have experienced the Sydney Baby Taxi service.
We invite you to try Sydney Baby Taxi and see what a difference our service makes to your trip or visit with your children. We know your children are so precious and deserve the best. We work hard to provide the safest, most reliable and best taxi with baby seats service in Sydney.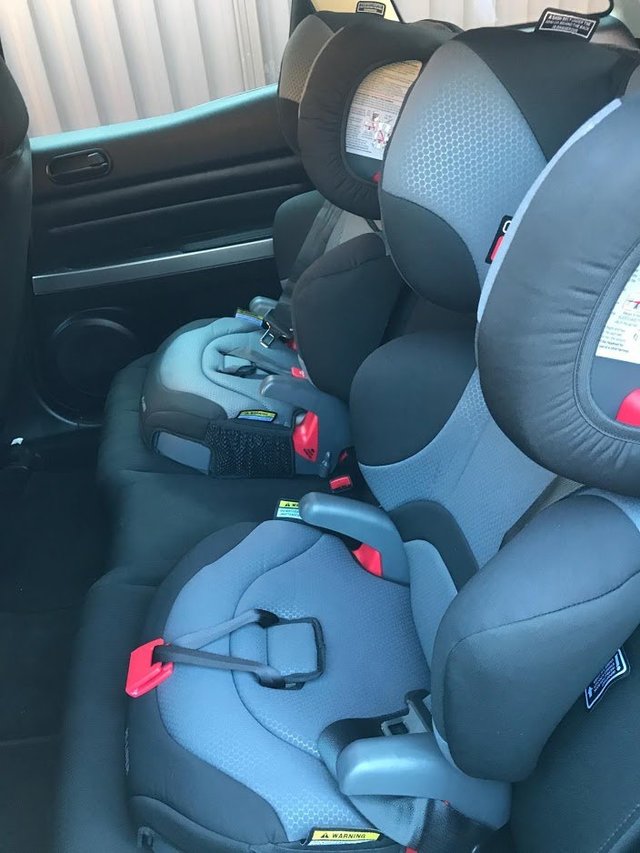 "We recently used Sydney Baby Taxi for our trip to the Domestic Terminal. The service is exceptional, driver arrived well on time and had the baby seat securely fastened and ready to go. The vehicle was very clean, luxurious and comfortable, with free water available. The journey was smooth and quick, the driver was very pleasant. I highly recommend using Sydney Baby Taxi above other transport, it maybe slightly more expensive but having piece of mind they will turn up on time and children are properly secured."
JAMES DWYER
TESTIMONIAL
Sydney Baby Taxi offers the full range of luxury car services. Our hire cars are available for airport transfers, weddings and formal parties as well as safely transporting your babies and children. Call us for the premier taxi with baby seat service.
We are always on time and have the right child and baby seats for your needs. Your driver will arrive well ahead of schedule to make sure your car is set up safely and your family's requirements are all met.
On top of this, our drivers are experienced and capable when working with children. They are experts at making your trip an enjoyable and safe journey.
We would love you to become another of our regular clients who come back time and again. They say it's for our great service and quality vehicles :). We work hard to make sure you feel the same way (and want to hear from you if we can do better!).